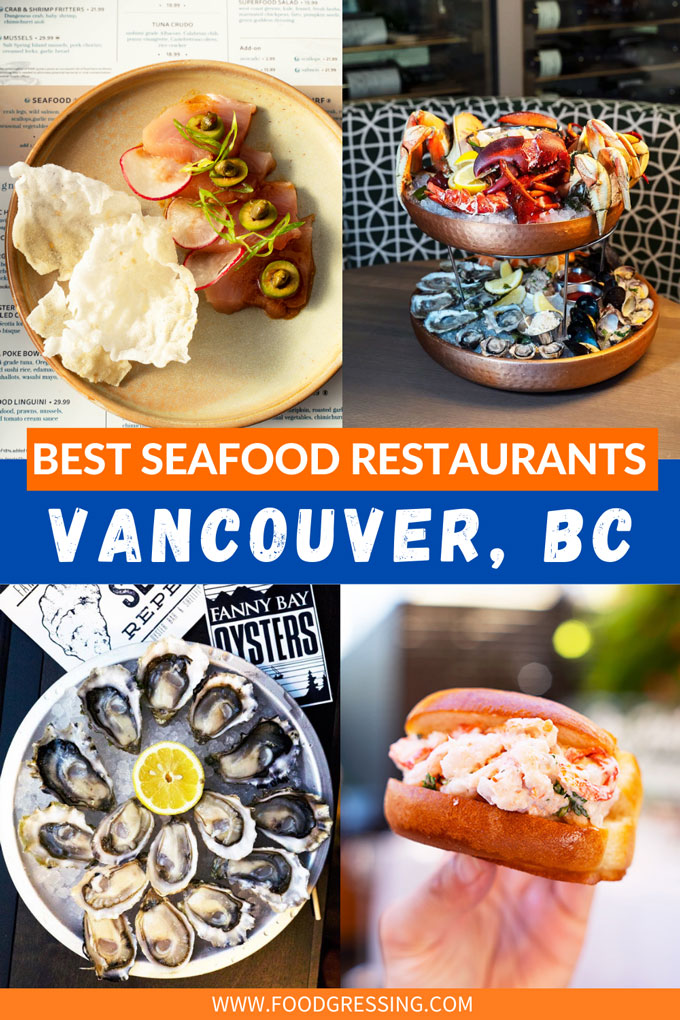 Best Seafood Restaurants in Vancouver BC Canada – 2022 List – Foodgressing
With its proximity to the ocean, it's no wonder that restaurants in Vancouver can serve some of the best and freshest seafood dishes. Here's a roundup of the best seafood restaurants in Vancouver BC Canada with many of them using only sustainable, Oceanwise seafood.
The Vancouver Fish Company
The Vancouver Fish Company (517 Anderson St) is located in one of the city's top destinations for both locals and tourists – that is, Granville Island.
The restaurant boasts waterfront views and an expansive patio overlooking a lively marina, making it the perfect place to enjoy a drink (or two) from the meticulously curated drinks menu on a sunny afternoon.
The exceptional food menu has also been carefully crafted to highlight the best seafood in the city, with all fish sourced directly from local fishermen and the majority of the seafood on the menu being Ocean Wise certified.
My recent favourites have been the Sashimi-grade Albacore tuna crudo with Calabrian chili, ponzu vinaigrette, Castelvetrano olives, rice cracker; and the Kasu-marinated sablefish, pomme purée, roasted leek & turnips, roasted tea dashi, ginger scallion oil.
The Sandbar
Located on Granville Island, The Sandbar (1535 Johnston Street, Creekhouse #102) has been a fixture of the local dining scene since it first opened in 2000.
With two floors of dining space and 180 degree views of the picturesque Burrard Inlet, The Sandbar is a favourite of both tourists and locals alike.
The kitchen serves up an extensive menu of fresh sustainable, seafood dishes for brunch, lunch, and dinner, which include options for those with dietary restrictions.
The location of the restaurant has a storied history that stretches back to prohibition when it was used a front for rum runners travelling up from Seattle in 1920.
I have enjoyed their Happy Hour features including the Ahi Tuna Poke with wonton chips and the Thai Curry Mussels.
Blue Water Cafe
Located in a handsome brick and beam heritage warehouse conversion in the Yaletown neighbourhood, Blue Water Cafe (1095 Hamilton St) is another top Vancouver restaurant for seafood.
Their menu features sustainable, Oceanwise seafood as well as innovative and memorable West Coast dishes.
Sit at the Raw Bar and watch expert sushi chefs prepare dishes with pure, clean flavours and unique presentations.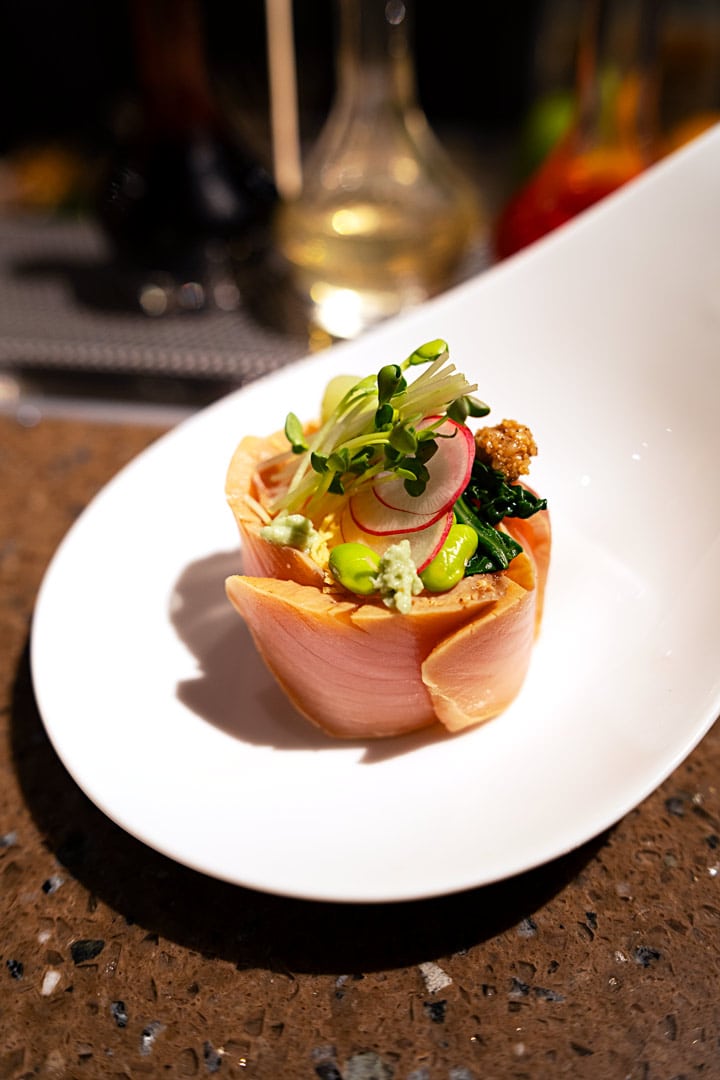 The striking dining room provides active views of the open kitchen and Raw Bar.
Blue Water Cafe is also great place to gather for special occasions, romantic night outs in Vancouver and to satisfy your seafood cravings.
Riley's Fish & Steak
Riley's Fish & Steak (200 Burrard Street) brings a new fish-and-chophouse dining experience to the heart of downtown Vancouver's waterfront.
Riley's spotlights the very best of the Pacific Northwest's oceans in an expansive yet intimate space with a full bar, oyster-shucking station, and seating for 240.
At the Raw Bar, you'll find West Coast and East Coast Oysters; King Crab Legs; Jumbo Tiger Prawn Cocktail; Dungeness Crab; Atlantic Lobster; Halibut Ceviche and more.
You'll also find impressive Chillled Seafood Towers featuring items from their Raw Bar. Choose from "The Grand," "The Deluxe," or "The King."
Go Fish
Go Fish Ocean Emporium (1505 W 1st Ave) is a a charming outdoor seafood shack just outside Granville Island serving fish and chips, sandwiches, grilled seafood, sides, and more to eat outside or take away.
They proudly support local fishermen and farms and the seafood on their menu is Oceanwise certified.
During the summer months, it's a great place to enjoy seafood while enjoying stunning waterfront views of False Creek.
My regular go-to order are the ahi tuna and salmon tacones.
Joe Fortes
For 35 years, Joe Fortes (777 Thurlow St) has consistently earned and maintained its reputation as an award-winning sustainable seafood-focused restaurant with their flagship location at the corner of Robson Street and Thurlow in Downtown Vancouver.
Guests from over the world visit Joe Fortes for a dynamic culinary experience featuring San Francisco-styled seafood grill, complemented by an award-winning wine list that boasts over 200 wines, and a uniquely personal level of service and hospitality.
Joe Fortes' rooftop patio is one of the best patios in the city and is known to be a serene retreat from the hustle and bustle of downtown Vancouver.
Fanny Bay Oyster Bar & Shellfish Market
Located in the heart of Vancouver's Stadium District, Fanny Bay Oyster Bar & Shellfish Market (762 Cambie Street) is Vancouver's only tide to table oyster bar and shellfish market.
As one of the best seafood restaurants in Vancouver, they are perfect for an adventurous brunch with friends, a quick bite for lunch, pre and post game drinks and food, romantic dinners, or bringing something special home from our shellfish market.
You can expect the freshest shellfish and top notch seafood experience at Fanny Bay.
Fanny Bay Oyster Bar & Shellfish Market also has one of the best Happy Hours with a great list of snacks, drinks, and oysters to indulge in.
Boulevard Kitchen & Oyster Bar
As one of the best seafood restaurants in Downtown Vancouver, Boulevard Kitchen & Oyster Bar (845 Burrard St) has a menu that is grounded in classical technique and training, and artfully infused with West Coast flair and international influences.
The culinary team at Boulevard is led by Chefs Alex Chen and Roger Ma who won the Canadian Culinary Championship crown, in 2020 and 2018 respectively.
Boulevard boasts a gorgeous main dining room, signature booths, a stylish patio, a buzzy bar and elegant private dining spaces.
You'll find exceptional service, and a wide-ranging selection of wines and cocktail.
Miku
Located along the Burrard Inlet next to the Vancouver landmark Canada Place, Miku (200 Granville St #70) offers gourmet Aburi cuisine (flame-seared sushi) in a sophisticated setting with a patio and water views.
Miku owner Seigo Nakamura innovated the Aburi concept by crafting specialty sauces using non-traditional Japanese ingredients to pair with each type of fish.
The light sear from the binchotan (also known as Japanese bamboo charcoal) caramelizes the sauce, releasing a smoky aroma and bringing out the finest natural flavours and textures in each piece of Aburi sushi.
Try the Aburi Chirashi Tart which has layers of sushi rice, spicy tuna, avocado, sockeye salmon, Miku sauce. n It is flame seared and topped with prawn, scallop, maguro, tobiko and ikura.
Minami
Located in the Yaletown neighbourhood, Minami (1118 Mainland St) is the sister restaurant of Miku (described above).
Minami also specializes in Aburi cuisine where each piece of sushi is flame-seared using a blowtorch resulting in sushi with a smoky aroma and a melt-in-your-mouth texture.
The menu features seasonal and locally sourced ingredients and is inspired by Vancouver's diverse flavours.
Check out their specialty rolls like the Champagne Roll which has Hokkaido scallop, sockeye salmon, cucumber and rolled in golden tobiko sauce.
Not to be missed is their Aburi Oshi sushi menu (also available at Miku). They have salmon, ebi (prawn) or saba (mackerel) Aburi Oshi sushi or choose the Oshi Sampler which has two pieces of each variety.
Papi's Seafood and Oyster Bar
Located in the West End neighbourhood, Papi's Seafood and Oyster Bar offers casual, seafood-focused dishes as well as cocktails, wine and craft beer.
The restaurant features a spacious dining room, oyster bar and outdoor patio offering panoramic views of English Bay.
The inspiration for the restaurant is derived from Poseidon, mythical Greek god of the sea and waters, and is reflected in the monochromatic colour palette as well as the use of trident motifs throughout the space.
Some highlights of the menu include Prawn & Chorizo Linguini; Pan Roasted Ling Cod; Fresh Oysters; Thai-Style Seafood Curry; Fish n' Chips and more.
Dynasty Seafood Restaurant
Dynasty Seafood Restaurant (108-777 W Broadway) having won numerous awards for their dim sum and Cantonese-style seafood dishes.
One of their signature dishes is the Spicy Garlic Dungeness Crab featuring a tower of sticky rice, crab legs, crab body and crispy noodles stacked on each other.